so i've been blogging for about a year and a half now, publicly anyway. and i've met so many wonderful friends through this unexpected medium. seriously,
very
unexpected. but who's to say that your friends have to be and can only be people that you see face-to-face all the time. why is that some sort of unspoken rule?
anyway, bloggers like to do things called "swaps". someone hosts the swap, and they pick something fun like headbands or flip flops or hoop art or MUGS! now, you might already know that i have quite the little mug collection? well i do. and i love to look at them. they're just so pretty. one of these days i really am going to figure out how to hang them up in my little wet bar nook thing, so that they're in view all day long.
so anyway,
Kim
hosted a mug swap. and i joined. it was my first swap. i am totally last minute, so it did take me up until the day before we were supposed to ship to actually head to the store and even look for one. i always knew that my back-up plan would be anthro, so i wasn't that worried about it.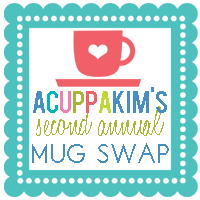 my partner was
Lorie
. and she has this awesome yellow wall, which i only knew because i scrolled through her blog to get a feel for what she's like before i went out to find her mug :)
see this post to catch a glimpse of the awesome wall
. so you can imagine my delight when i walked in to TJmaxx to see this awesome ikat yellow mug. that was it. i didn't have to look any further! i found this darling little notepad to go with it, becuase, like i explained to lorie, i do all my planning and grocery list making and doodling in the morning over coffee. plus i just loved it. and almost left it out of the package to keep for myself but that would've been rude. so i sent it along. i also sent this little print which i'd kept sitting for quite some time. this seemed like the perfect occassion to print it out and send it along! i also put it in the shop [and if you scroll down you'll see that it's half-off for this week only]
anyway, i packaged everything up and headed to the post office where the postman sorta giggled at my elaborate packaging and the fact that i had written "happy mail" on the side... but i don't care. it made him happy too, he just didn't want to let on, i'm sure. plus i just imagined Lorie's cute face when she saw that darling package at her door. i mean, seriously? who wouldn't want that lovely surprise waiting on their doorstep? am i bragging? i don't know...
anyway, Lorie got her mug and was so sweet to thank me.
and can you imagine my delight when i saw this badboy at my doorstep a few days later:
i squealed out loud, yes i did. and my 3 year old looked at me like i was nuts. she'll understand soon enough. i give her about ten years and then she'll squeal for happy mail too.
and look how perfect it was. exactly what i need to read when i wake up in the morning. seriously. i love love love love it :) she included some yummy "strawberry fields" coffee and this darling sweet card. so so cute!
thank you again J
oy
:)
>>>>>>>>>>>>>>> <<<<<<<<<<<<<<<
and, just so you don't think i forgot :)
every week i put three select prints on sale for half off!
this weeks prints are on sale
from September 10 thru 16
:
My Cup Overflows:
[because obviously.]
The Seed You Plant:
[brand spankin' new!!]